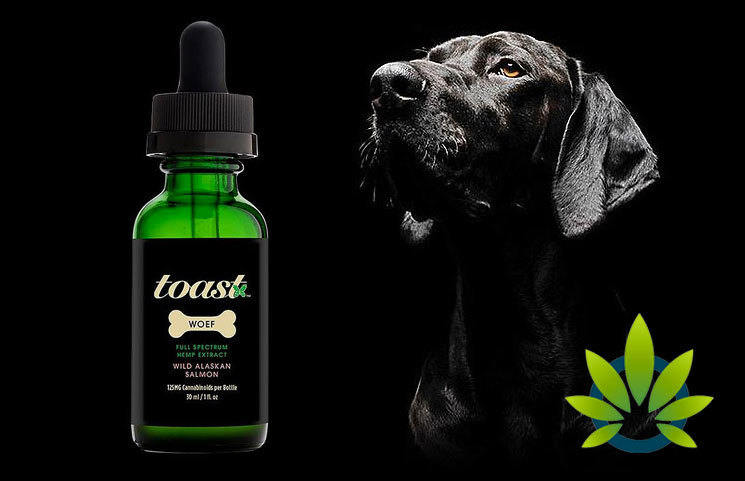 Dogs, cats, and other animals experience anxiety, much like humans.
Toast has created products for use by dogs and cats.
With all of the benefits that CBD has to offer, there are many pet owners that are willing to integrate this substance into their pets' daily diet. Since dogs and cats both have an endocannabinoid system, it is safe to say that CBD would also help their struggle with pain and inflammation. Now, a boutique cannabis brand from Colorado is launching two products for the pet industry.
Aspen-based Toast is launching two products for pets at the moment – Toast Miau and Toast Woef. The brand includes hemp-based CBD oil with a wild anchovy oil, flaxseed oil, and Alaskan salmon oil into a formula together. According to an article with Brinkwire, up to 40% of dogs have some kind of anxiety, primarily credited to separation. To aid in this issue, the user could easily give their pup a dose of this treatment to help.
To pair with their launch of pet-specific products, the Toast brand has created a thunderstorm hotline, likely coming from the fact that thunder and lightening tend to cause anxiety issues in animals. The trigger for animals tends to be the combination of the static electricity in the air and the cracking volume of the thunder. Pet owners that have thunderstorms come their way should send a message to thunderstorm@toastwellness.com for a free bottle of one of the products.
CEO Punit Seth of Toast commented that the fish oils, available for $37, are Friend of the Sea certified, contain no animals products, have no sugar, and are gluten free. The THC and CBD products by Toast are created in Colorado with all-natural growing methods.
Before adding CBD to any pet's diet, it is important that the owner speaks with their veterinarian to ensure that this option is safe for the animal.
Source: https://timesofcbd.com/aspen-based-boutique-cannabis-brand-toast-launches-pet-focused-cbd-oil-for-anxiety/