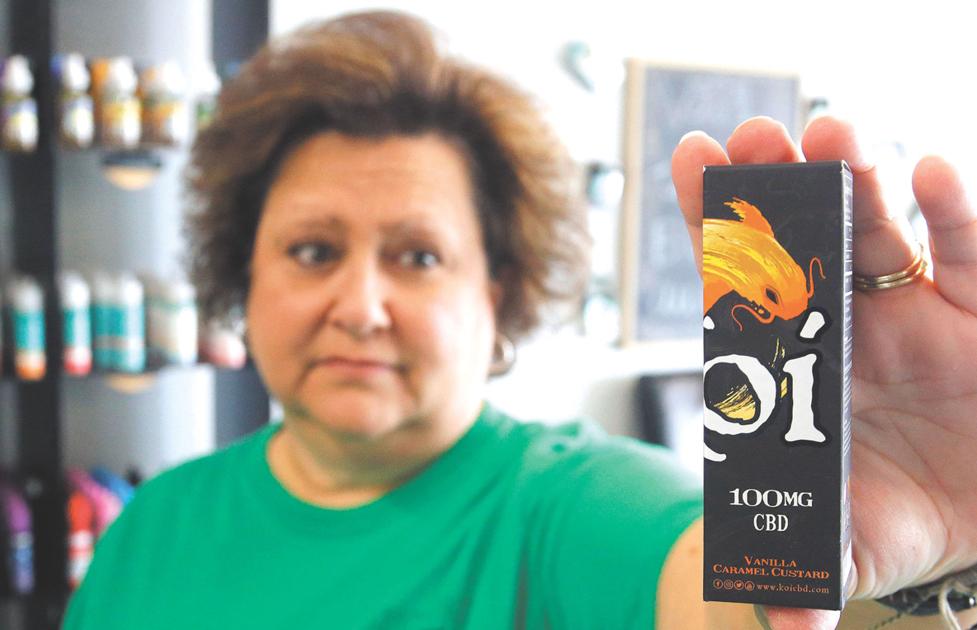 Shops across the state are stocking a newly available product — CBD oil — after Congress OK'd its sale last year, though some local authorities say they're still not convinced it's legal.
Joe Ferrell, co-owner of Tree of Life Wellness, a chain of three stores in Etowah County specializing in CBD product sales, approached Oxford officials in February about opening another of his stores. He said City Council members seemed amenable, but law enforcement was hesitant without proof that Ferrell's products would fall within legal limits. Negotiations between the two fell apart soon after, Ferrell said.
"Oxford pretty much kicked us out," Ferrell said by phone Wednesday.
Oxford police have since asked retailers in the city to stop stocking the substance, an oil derived from industrial hemp that by federal law must contain less than 0.3 percent THC, or tetrahydrocannabinol, the psychoactive agent in marijuana plants.
Ferrell said CBD oil helps with a number of medical issues, ranging from poor sleep and anxiety to pain management and epilepsy. He said a common misconception is that the substance can get the user high.
"CBD is industrial hemp, a sister plant of cannabis sativa, with little to no THC in it, no psychoactive effects in it," Ferrell said. "If you get high off CBD products, you are not using CBD."
Retailers across the state are offering CBD-infused products ranging from honey sticks, coffee, vape liquids, lotions and even dog treats.
Dr. Scott Harris, state health officer, said in the notice that CBD oil "might contain any number of substances," and referenced a Centers for Disease Control and Prevention report from 2018 about a Utah "outbreak" of CBD products tainted with a synthetic cannabinoid that affected about 50 people. According to the notice, most of those people were "sickened" and five of them reported "altered mental status, seizures, confusion, loss of consciousness or hallucinations."
"We decided until it is clarified by the Legislature or courts to pull it for public safety reasons based on the fact it doesn't have proper regulations," Partridge said in a text message. "Right now, we don't know what's in it."
Not illegal, says AG's office
"CBD derived from industrial hemp, with a THC concentration of not more than .3 percent on a dry weight basis, can be legally produced, sold, and possessed in the State of Alabama," according to the notice.
His office issued the notice in response to the passage of the 2018 Farm Bill by the U.S. House of Representatives, which legalized industrial hemp and its byproducts. The notice also says the federal law won't prevent states from restricting or regulating the sale of industrial hemp, and that prescription drugs and other consumables containing CBD will be regulated by the U.S. Food and Drug Administration.
However, that rule may not satisfy concerns about legality, according to Brian McVeigh, Calhoun County district attorney. McVeigh said he discussed the legality of CBD oil with Oxford police while they deliberated on its sale in the city. While state law doesn't restrict CBD oil with THC content lower than the legal limit, McVeigh said it's difficult to prove that products are within those limits.
"Some cities are actively allowing retailers to sell CBD oil with a letter you get from the manufacturer saying the product is within regulations, but other cities have taken a stance saying, 'No, that's not proof,' or that the health department letter somehow prevents them from allowing it until they get a letter saying otherwise," McVeigh said.
He made a comparison to bingo games from county to county, with some allowing paper bingo, some allowing electronic bingo and others not allowing the game at all, based on uncertain law. He said policies among cities even within his district vary, with Anniston allowing sales and Oxford attempting to deny them.
"To be honest with you, I don't know who is right," McVeigh said. "There's no clarification from Montgomery what the law is."
Retailers say that proof is available, however. Kevin Wilhoite, owner of Cheaha Vapes in Oxford, said his CBD products come with QR codes or internet addresses printed on their boxes, which link to lab results explaining the contents of each batch of oil, including the THC content.
Wilhoite said he uses CBD oil products, and he's seen good results for customers. He's been told that customers have been able to stop taking narcotic pain medication after taking up CBD oil use, and he believes that the negative connotations of the substance are far outweighed by its benefits.
"It's working, which I believe is why we're even having this conversation," he said. "I think through education we can get more transparency to it. We should abide by the laws, of course, but we can actually help people in a legal way, and not have them be slaves to pills and pills and pills."
McVeigh said legislation and regulation might come after the current legislative session. A bill sponsored by Sen. Tim Melson, R-Florence, might see some legalization of marijuana for medical use in the state, and McVeigh speculated that lawmakers might wait to see if "they put language into that bill that legalizes CBD."
"It's a wait-and-see until legislation ends," he said. "If they don't answer the question, someone has to."
Source: https://www.annistonstar.com/news/business/cbd-oil-hemp-extract-legality-uncertain-in-calhoun-county-in/article_e827fea8-6c91-11e9-b70e-8f613ddb291e.html