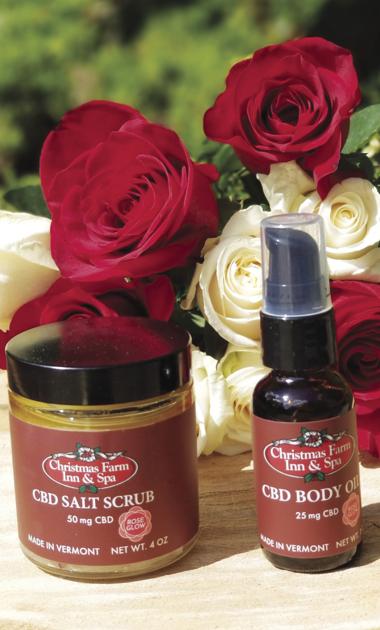 JACKSON — The iconic Christmas Farm Inn & Spa in Jackson formally announced they are now offering a range of branded CBD spa retail products and CBD infused topical treatments at their spa in Jackson. They are one of the first full-service spas to do so in New Hampshire and the first in the White Mountains.
The range of CBD products include scented and unscented massage oils, face serums, body scrubs and balms. A tincture is also available, which can be added to other massage oils and spa products.
Their CBD product line will be featured at their annual pre-Christmas open house, this Thursday and Friday, Nov. 7 and 8, from 5-7 p.m.
The Spa at Christmas Farm Inn is in the Carriage House building — 35 Dancer Way, Jackson. A Welcome Pack, product testing, experiential treatments and 25 percent discount off AVEDA products will also be available during the open house.
Sandra Plourde, owner of the Christmas Farm Inn & Spa said, "Offering the option of CBD products in our treatments is a natural progression in our holistic wellness program. CBD products are legal and have become a very popular and natural way to help people seeking better health and relief from pain.
"Our customers now can upgrade traditional spa treatments with topically applied CBD products. This complements our existing all-natural AVEDA and ilike product line."
Plourde said a common question from customers inquiring about a CBD-enhanced treatment for the first time is: "Will I get high?"
"And the answer is no, not from our treatments, only from our elevation," she said.
"Our products do not have 'psychoactive' properties. They only have 0.3 percent of THC, which enhances the uptake, absorption and effectiveness of the CBD, but it won't get you high.
"People do say they feel a greater sense of calm and well-being, after a CBD treatment, and that the effects of their traditional treatment is longer-lasting. The intensity can vary from person-to-person."
CBD is now mainstream and widely used for medical and therapeutic purposes.
"Although CBD is believed to have wide ranging health benefits, the most common effects reported are improved sleep and reductions of chronic pain, anxiety and stress," said Spa Manager, Chris Sortwell.
Short for cannabidiol, CBD is a naturally occurring non-psychoactive cannabinoid compound that is found in cannabis and hemp plants.
"Humans have CBD receptors in nerve and immune cells in organs throughout their body, including the skin. The CBD receptors, known as CB1 and CB2, are part of the endocannabinoid system, which is the physiological system that helps homeostatic functions within the central nervous system.
"This includes maintenance of bodily functions, pain, inflammation, and the immune system. "We have learned that human skin has five times more CBD receptors than other organs, so topically applied CBD with oils and balms on the skin is better absorbed, compared with orally taken CBD," said Sortwell.
The Christmas Farm Inn & Spa has partnered with Elmore Mountain Therapeutics of Vermont for exclusive use of their products in New Hampshire. "We are very impressed with EMT's overall professionalism and scientific approach," said Sandra Plourde.
"Quality assurance was our primary concern. Every product batch EMT makes is quality tested by an independent lab and the results are published on their website. This transparency is great for us and our customers. Our product is sustainable, regionally grown and DSHEA compliant (Dietary Supplement Health and Education Act of 1994)."
Plourde also said that their technicians have completed training with Ashley Reynolds, Founder and CEO of Elmore Mountain Therapeutics. Reynolds is recognized as an expert in her field and was recently invited to give a TED Talk about the use of CBD and its beneficial effects on the body.
Her TED Talk is available on YouTube and is titled Cannabis — A Future Without Stigma. She speaks regularly at industry gatherings and was a featured vendor at the annual conference of the New England Inns and Resorts Association  in late October.
For more information on their products or treatments, call The Spa at Christmas Farm Inn at (603) 383-4313 or go to christmasfarminn.com.
The Christmas Farm Inn & Spa is a 41-room resort located on 15 acres in Jackson. It comprises of the main inn (circa. 1786) and salt box (circa. 1778), barn (circa. 1786), seven hand-crafted cottages and 12 carriage house suites, a full-service spa, indoor pool and fitness center and outdoor pool.
The Christmas Farm Inn & Spa has been recognized in the Select Registry of Distinguished Inns of North America and listed in the Top 100 Inns of America and Historic Inns of America. It has welcomed lodgers since the 1880's and became the Christmas Farm Inn since 1946. It is established as one of the premier resort destinations in the White Mountains of New Hampshire, and a leading business in Jackson and Mount Washington Valley.
The Spa at Christmas Farm Inn is renowned for its seven treatment rooms and AVEDA and ilike all-natural product range and therapeutic techniques.
The restaurant and spa serve the local community and inn guests daily, and the resort regularly hosts weddings and events.
Gary and Sandra Plourde are the owners and have operated the inn for nine years and are active in the community. Collectively, the Plourdes have over 50 years of experience in hospitality and tourism management.
Source: https://www.conwaydailysun.com/community/health/christmas-farm-inn-launching-cbd-line-at-open-house/article_b9e43ee2-00c2-11ea-8cca-efafa9fe9b3e.html